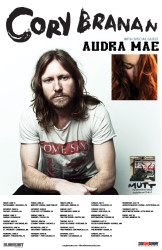 Cory Branan w/ special guest Audra Mae & Adam Faucett
Dinner Delivery 5:30pm-10:30pm
July 20, 2012 9:00 pm
- 11:55 pm
Add to Cal
//=$other_events?>
Time: 9:00pm Day: Friday Ages: 18+ Ages Price: $10
This Event Has Ended
Cory Branan (born 1975 in in Southaven, Mississippi) is an American singer-songwriter.

Branan is a natural-born storyteller. As with any of his musical and literary pedestal sitters, from John Prine and Leonard Cohen to Raymond Carver and Márquez, his seemingly conversational, painstakingly crafted anecdotes benefit from a hard-eyed stare at hydra-headed experience. Honest, sometimes a little dark, and riddled with self-deprecating humor – traits that led themselves well to his songs. Songs that, like Cory, are original and unpredictable, prompting one music critic to note that "…he writes serious music without taking himself too seriously, without being afraid to smash a guitar, throw in a line about Miami Vice, or smack his audience in the head every once in awhile – figuratively, of course." "I never play a song the same way twice," says Cory. "It's the only way I've found for me to keep the music honest and immediate and, more importantly, to keep my self amused."

MUTT—Branan's Bloodshot debut, out May 22, 2012—also bears the marks of his "American gumbo" heritage: a winding path from nascent guitar shredder in the small, state-line town of Southaven, Mississippi, to fledgling troubadour in Memphis' lauded underground music scene, and now a Nashville-based itinerant road warrior thrilling Thunderdomes as varied as Warp's Country Throwdown and Chuck Ragan's Revival Tour. While his music tips its hat to road-map influences from Motown to Mellencamp, the Delta bluesmen to folk pickers of '60s Greenwich Village, the united result is a singular sound spurred on by years spent on tour honing something rare that is altogether its own. Like each song within it, the perspective Branan brings to MUTT isn't tidily summarized as either sentimental or harsh. In perhaps the album's most thematic track, "Lily" brings beauty to resignation while proposing how to make peace with the heap of worldly contradictions: "I guess the best trick is to see the magic once you've seen the wires." The truth is, Branan knows nothing is ever as simple as it seems and MUTT shows the depth, wit, intelligence, dismay, and hilarity that make up the complex pedigree of every life well lived and every story worth telling.