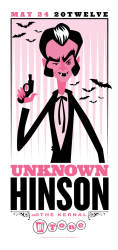 Unknown Hinson w/ The Kernal
Dinner Delivery 5:30pm-10:30pm daily
Time: 9:00pm Day: Thursday Ages: 18+ Ages Price: $20
This Event Has Ended
Unknown Hinson, dressed in his signature rodeo tailor coat and black ribbon necktie, is a dark parody of the country western stars from the 1950s through the mid-1980s. His recorded material has the sonic qualities of a regional country star with access to cheap recording studios and hack producers. With his glued on sideburns, blacked out front teeth, and dark hair slicked back to reveal a prominent widows peak, he has been referred to as the "hillbilly vampire." The self-proclaimed "king of country-western troubadours" speaks and sings with an authentic southern drawl, commonly pronouncing words like woman "womern," and window "winder." Hinson's personality is that of a hell-raising and hard-drinking country western singer with a preference for "party liquor," sexy womerns, and fine guitars. Baker has carefully cultivated his alter-ego. Much like Andy Kaufman's alter-ego, Tony Clifton, Unknown Hinson never breaks character in public and adamantly denies having any connection to Danny Baker.

Unknown Hinson was an only child named after his father "says right there on my birth certificate—Mama: Miss Hinson. Daddy: Unknown." and raised by his mother who gave him his first guitar. After his mother's mysterious disappearance, Unknown ran off and joined the circus as part of the sideshow, where he learned how to lift 50-pound weights with his tongue and a variety of other skills.

Later, Hinson was convicted of various trumped-up charges, including three counts of murder, 19 paternity suits, vampirism and random grave-robbing offenses and was sentenced to thirty years in prison. He was released in 1993 and set forth to reclaim his long-denied musical legacy.